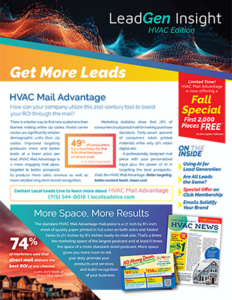 LeadGen Insights is your quarterly source for cutting-edge strategies and in-depth knowledge on generating local leads for local service companies. In a dynamic industry where change is the only constant, LeadGen Insights is your trusted guide to staying competitive and profitable.
Every issue of LeadGen Insights is packed with fresh ideas to keep your local service business thriving. From the latest industry trends to innovative technologies, we uncover the secrets behind successful lead generation in the digital age. Discover how to harness the power of AI for marketing, optimize your online presence, and fine-tune your lead acquisition strategies to attract high-quality, local prospects.
But LeadGen Insights doesn't stop at lead generation alone. We understand the challenges of maintaining a steady workflow throughout the year, and our publication is dedicated to providing you with solutions. Find insights on how to adapt your services, leverage seasonal opportunities, and keep your business productive, even during the traditionally slow months. With our expert analysis and practical advice, LeadGen Insights ensures your local service company remains at the forefront of industry innovation. Subscribe today and empower your business with the latest insights, strategies, and technologies for successful lead generation.